Chapter Sixteen: The "Silent" Years (1988)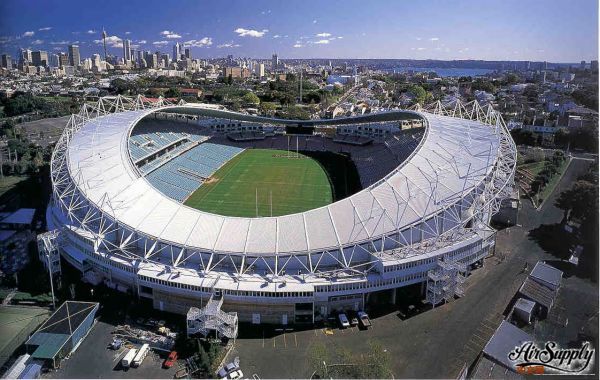 Sydney Football Stadium

  Graham and Russell traveled to Australia in January of 1988 to take part in one of the country's biggest celebrations, the Bicentennial, which marked 200 years of permanent settlement. The day before the christening of the new $62 million Sydney Football Stadium was to be held, Air Supply was asked to perform at it. Veteran rocker Joe Cocker was originally slated to play, but canceled at the last minute. Air Supply gladly joined an all-star cast of performers that included John Denver, Dragon, Eurogliders, and Sharon O'Neil. The concert was met with mixed reviews, as the crowd of 17,000 complained that the acoustics in the roller-coaster shaped stadium were poor. The general manager of the event stressed that the stadium was intended for football crowds, which made the grand opening something of an experiment, studded as it was with music stars.



Princess Diana, Russell, Graham

Several other Bicentennial celebrations were organized throughout the country including the World Expo 88 in Brisbane. On January 25, the Royal Bicentennial Concert was held at the Sydney Entertainment Centre, and included many high profile guests, such as Princess Diana and Prince Charles. The event was broadcast on television and featured many musical guests. Representing Australia was Olivia Newton-John, Icehouse, Debbie Byrne and Air Supply. After performing a medley of their biggest hits, Graham and Russell spoke with Princess Diana and Prince Charles. "She told us in the line that she was a big fan of ours which is a big compliment. We were thrilled by that," said Graham. Years later, Russell and Graham said that meeting Diana was one of the highlights of their career.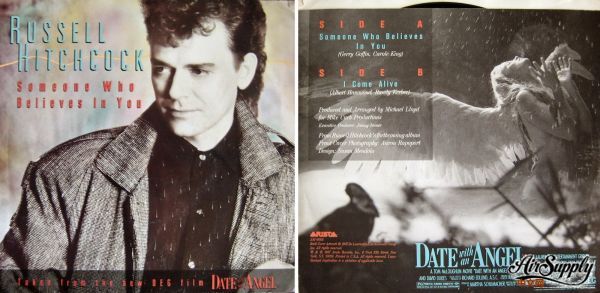 'Someone Who Believes In You' (Front/Back)

In early January, a third single, 'Someone Who Believes In You,' was released from Russell's forthcoming solo album. Arista hoped the song would gain momentum after it was featured in the film Date With An Angel. The movie was a box office flop, and Russell's single did not chart. The 7" single included a picture sleeve with 'I Come Alive' on the B-side.

CBS Records and Disctronics Ltd. released an Australian collection titled 'Four Play' in 1988. 'Four Play' was a series of albums that highlighted different artists, and included four of their most popular songs. Air Supply was the feature artist on Volume Thirteen. The album was released on vinyl and Compact Disc, and contained the songs 'Love And Other Bruises,' 'Empty Pages,' 'Do What You Do' and 'That's How The Whole Thing Started.'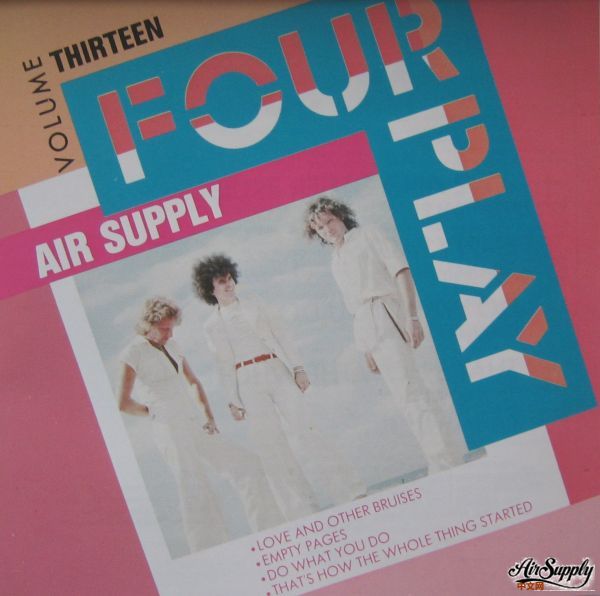 The relationship between Air Supply and Arista had run its course by 1988, and both sides agreed that it was time to separate. Clive Davis knew that Air Supply's sound had peaked on radio, and that their new material would no longer get played. The holiday album was designed to sustain the band a bit longer and sell more records. The idea to release a concept album was something that Davis had done with other floundering Arista artists, and more often than not, it produced a successful album.

"It was obvious that, at least as measured by sales and radio play, Air Supply's time in the sun was waning," said Clive Davis in his 2013 book The Soundtrack Of My Life. "Tastes change so quickly, and as the Eighties moved along, even adult-contemporary radio wanted to shake things up. Without the strong radio hits that drive album sales, adult contemporary artists are essentially a niche taste. That said, it's not an insignificant audience at all, and it's loyal. I do believe that the songs of Air Supply are remembered, maybe as emblematic of a specific time, maybe as a guilty pleasure. They didn't simply have turntable hits: They had a distinctive sound and they were embraced by fans who genuinely cared about them. Russell Hitchcock's tenor voice came through on those records, and combined with the quality of the songs, the group moved people."

"We had artistic differences with Clive," said Russell. "We wanted to do other things, but he wanted to keep us in the genre we were in. I think the biggest thing was that we wanted self control. We were obligated contractually to record three songs of his choice for every record whether we liked them or not. We were obviously much older than when we first started, and more experienced. We just wanted to do things our way. We wanted to find a company that agreed with us. Plus we wanted to take some time off from recording and enjoy our lives a bit more. One of the reasons why I made my solo record was to make some time for ourselves out of the studio. Graham was working on his opera that he has been working on for some time. I got a chance to go into the studio and do a record on my own. It was time for both of us to stay out of the studio, and we had the luxury of not having that pressure of recording an Air Supply album. We are taking this chance to do independent things, but we will still tour together. I'm very happy with my role as a vocalist in Air Supply. In the meantime, we also got married and wanted to create a balance in our lives. We wanted to create home life and be like normal human beings. "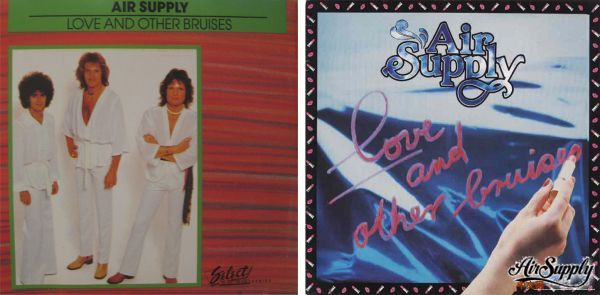 CBS & Disctronics Rainbow Music

Demand for Compact Discs was growing in 1988 and many record companies were re-issuing older albums on the new format. CBS Records and Disctronics released an Australian CD called 'Love and Other Bruises.' The CD was part of 'The Best For Less' series, and was a re-issue of the Australian 'Love and Other Bruises' LP and cassette from 1981. It contained tracks from Air Supply's first two albums with CBS Australia.

Australian record company Rainbow Music Group and CBS also re-issued the 1981 album on CD, but kept the original artwork. It was a budget conscious release, priced lower than most CDs at the time. The Australian release of 'Love and Other Bruises' is often mistaken for the 1977 North American album from Columbia Records, as they share the same title. Both versions of the Australian CD are sought after by collectors because they had limited production runs. Plus, they contain songs from the 1976 and 1977 CBS albums, that are rarely included on CD.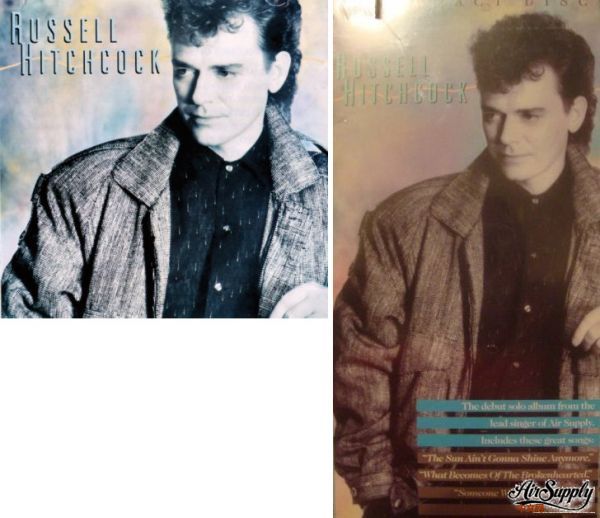 Longbox Case

Arista released the long-anticipated Russell Hitchcock album on April 21, 1988. The self titled album featured 10 songs (not 11 as first planned), three of which are covers from the mid-1960s. The songs were penned by several well known writers from the American album-oriented rock scene, including Billy Steinberg, Tom Kelly, Carole King and Gerry Goffin. Clive Davis and his team at Arista were instrumental in helping find the best possible songs for Russell to record.

"Despite the singer-songwriter trend," said Davis, "I believed that there was still a sizable audience for pop singers who did not write their own material, and the key to their success would be finding the right songs for them to record. Many A&R executives believe that identifying talent is the essence of their job. That's obviously critically important, but it's not the whole story. If the artist isn't a songwriter, finding first-rate material for them is essential. People often say that a great singer can sing the phone book and people would buy it. To me, that's completely wrong. The better the singer, the more critical it is that the songs are challenging enough to showcase his or her talents at their absolute best. My A&R man, Rick Chertoff, was a great help to me in this regard at Arista."

"I've waited a long time to make this record," said Russell, "both because I've been so busy with Air Supply that there just wasn't a chance to do it, and because it takes a long time to put together a good album. All the pieces came together to make this the right time to take a break from Air Supply, as well as to work with the right people. I wish I could have done it sooner, but I also feel that if I hadn't waited, I wouldn't have come up with an album that I'm as proud of as I am of this one."

Air Supply fans were thrilled with the new album, but music critics were less enthused:
The lead squeaker from Air Supply manages to weenify everything he touches here, including some venerable classics that don't deserve it. Not that 'The Sun Ain't Gonna Shine Anymore' and 'What Becomes Of The Broken Hearted' are great tunes, but they deserve better than this milquetoast interpretation. Hitchcock would do better to stick to unfamiliar material so that his gratingly sweet, squeaky-clean vocals don't disappoint expectations. - Ohio Critic

It couldn't have been because Hitchcock was feeling stifled by the group format, though: This sounds pretty much like a typical Air Supply record, and should spin off its unfair share of hits. Such cuts as 'Someone Who Believes In You,' 'I Come Alive,' 'Dreams Of The Lonely' and 'Make It Feel Like Home Again' were obviously chosen to showcase Hitchcock's sentimental yawp - the aural signature of the Air Supply sound - and should strike a responsive chord in cash registers across the realm. - Winnipeg Free Press

A fourth single, 'What Becomes of the Broken Hearted,' was released in April with the new album. This remake of Jimmy Ruffin's classic hit received radio play and managed to sneak into the Billboard AC Top 40 at #39. It also charted in Australia where it reached #17. For a short time, Russell performed the song live during Air Supply's tour of 1988, along with 'The River Cried' and 'Someone Who Believes In You.'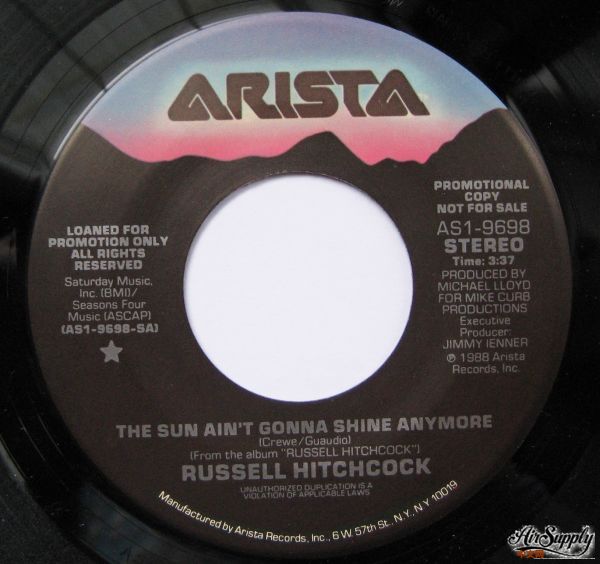 A fifth single, 'The Sun Ain't Gonna Shine Anymore,' was the last song sent to radio. It was first recorded by Frankie Valli in 1965, and covered by Niel Diamond and The Walker Brothers. Russell's interpretation received some radio play in North America and Australia, but like most of his previous singles, it failed to chart.

Russell's solo album was the last project from Air Supply to be released on vinyl in North America and most parts of the world. Some countries in South America and Europe continued to press vinyl into the mid-90s. Cassettes survived for several years and co-existed with Compact Discs. The self-titled 1985 album was Air Supply's first to be manufactured on CD at time of release.

A valuable item for collectors of Air Supply music is the cardboard packaging called longbox, which was used to sell CDs in the late 1980s. The 12"-high longbox served a transitional purpose, allowing record stores to file Compact Discs in the same bins used for vinyl records. Longbox artwork was typically taken from the original square album cover art, but the oblong shape often allowed more picture to be shown, as is the case with Russell's cover. Most music fans discarded this packaging, making them extremely rare. Due to environmental concerns over the use of cardboard, longboxes were phased out in 1993, much to the chagrin of retailers who felt the larger box deterred shoplifters.




Cancelled Tour (Ticket Courtesy Lisa Rowland)

In May, Russell and Paula celebrated the birth of their first child together, a girl named Sydney Rose, (after the city in Australia). Shortly thereafter, Russell began preparations for a summer solo tour of the U.S. in support of his album. At Russell's request, promoters were asked to describe him as a solo artist, and to make no mention of Air Supply on the billing. Many of the concert venues on Russell's schedule were the same locations that Air Supply sold out in the past. However, ticket sales for just Russell were poor, and the entire tour was cancelled. "I made the mistake of figuring I did not need to fly on the wings of Air Supply," said Russell. "In venues that Air Supply had sold out for ten years running, I had sold ten tickets, twelve tickets, fifteen tickets. It just would not work."

During the second half of 1988, Graham worked on songs for an Air Supply album they hoped to release in 1989. A tour of the U.S. and South America was about to begin, and some of this new material was added to the set list. Shortly before the tour, bassist Larry Antonino replaced Don Cromwell. Cromwell left Air Supply in late 1987 to join forces with rock legend Eddie Money after Air Supply decided to slow things down. "I still remember my last year, 1987, was like a grueling nine month tour and everybody was burned-out," said Cromwell. "We were in Atlantic City, I think, when Graham said that we are going to shut it down for awhile." Keyboardist Robin Swenson left the band and was replaced by Michael Sherwood. Sherwood had remained good friends with Jimmy Haun after their band Lodgic broke up in 1986. Sherwood was just the first of several musicians that Haun lured into Air Supply. The touring band now consisted of Ralph Cooper, Jimmy Haun, Michael Sherwood, Greg Hilfman, David Young and Larry Antonino.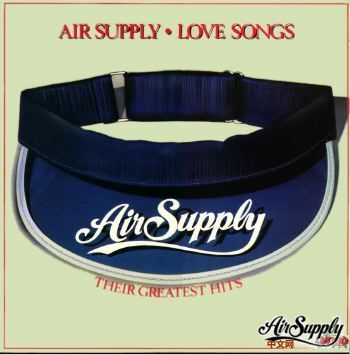 'Love Songs' - Dino Music 1988

Dino Music, a budget label based in Australia, released an Air Supply hits compilation called 'Love Songs.' The greatest hits package was available on LP and cassette, and contained 16 tracks, including 'Just Another Woman,' 'Give Me Love,' and 'Bring Out The Magic,' and it catered to the Australian fan base. Dino Music was a sub-label of Dino Entertainment in the U.K., and was a major player in the compilation market, competing with K-Tel, Stylus, and Telstar Records.

Throughout the tour of Latin America and the States, Graham and Russell integrated their solo projects into the show. Russell performed three songs from his solo album with Graham backstage. Graham played three songs too, including a lengthy narrative from his rock opera, which he now called The Heart of the Rose. The title track, 'The Heart of the Rose,' was written by Graham a year earlier, and was performed live for the first time in November 1987. The Heart of the Rose stage show was expected to premier in England in September 1989.

1988 Tour Set List:
1. Making Love Out Of Nothing At All 10. Glitzy Queen (Graham Solo)
2. Lost In Love 11. The Final Power (Graham Solo)
3. Two Less Lonely People In The World 12. The Heart Of The Rose
4. Never Fade Away 13. Keeping The Love Alive
5. Sweet Dreams 14. The One That You Love
6. Here I Am 15. All Out Of Love
7. What Becomes of The Broken Hearted (Russell Solo) 16. Stand Up
8. Someone Who Believes In You (Russell Solo) 17. Late Again
9. The River Cried (Russell Solo)

Music critics were not sure what to make of Air Supply's new show:
The result was at times both weird and refreshing and may be just the dose of cardiopulmonary resuscitation these fallen pop stars need. Playing before a relatively sedate crowd of 1,650, the group opened with two of its biggest radio hits, 'Making Love' and 'Lost In Love.' At that point it looked like this would be a typically safe Air Supply show. The group's October 1987 concert at the Paramount showed hints of subtle change in style, but Friday's 16-song set took things several steps further.

About half-way through the nearly two-hour show, Hitchcock and Russell each took turns in the solo spotlight. Hitchcock, he of the often-breathtaking upper-octave, was in fine form during his two offerings, 'Someone Who Believes In You' and 'The River Cried.' It was then that things got rather bizarre. Graham Russell it seems has changed dramatically since his last Springfield performance. The once closely-cropped blond hair that would have looked perfect on the cover of GQ has grown extremely long, and he wore it in a loose pony tail for most of the show. He often appeared disheveled and uncomfortable when talking to the audience about some of the group's newer material. One could understand why, after witnessing the three songs he played during his solo stint.

All were from a new musical slated to open in London next year. Titled, 'The Heart of the Rose,' the production is apparently set in 14th Century medieval England, and filled with references to sorcery and the like. 'Glitzy Queen,' was borderline heavy metal (honest), and 'Final Power,' was also pretty avant-garde for an Air Supply show. The title track proved to be the strongest of the three, and featured Russell bathed only in candlelight on stage, with some off-stage harmonies provided by Hitchcock. While certainly intriguing, the break from the norm seemed to take many in the audience by surprise. In keeping with the mood, Air Supply played another brand new song, a Hitchcock-showcase called 'Love Conquers Time' prior to returning to their hits. - Kevin O'Hare, Springfield Union News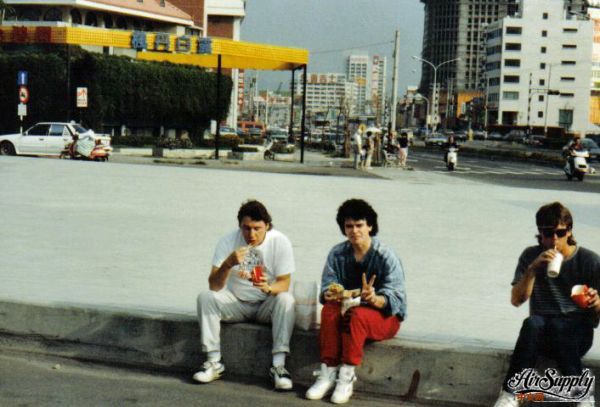 Tour Manager Bernie Boyle (Left) & Russell - China

Band roadie, Ken Barr, joined the Air Supply road crew in 1988 and saw first hand what it was like touring the world with a successful international band. "We started out in the States and we were playing dinner theaters and clubs, and then you go to the Philippines, China and South America and your playing stadiums," wrote Ken in his 2009 book titled We Are The Road Crew. "The shows were great. I was still a kid back then, about 24, and your doing stadiums with Air Supply, who, by the way, were about the coolest guys on the planet and really a lot of fun. I actually wasn't an [Air Supply] fan when I was first hired, but I became one quickly. The band was huge so security was a big concern. [In South America] we were taken from the airport by car to a private disco they had rented out for our dinner and a party. It did make me uneasy that we always had armed guards with us, but you get used to it. Air Supply is as big as the Beatles in a lot countries. Countries outside the U.S. consider the crew to be as important as the band. They assume that if you are of a stature worthy of your job, then you are also important. Our nights off were another culture shock for me. The local promoters had private tables for us at just about every club there was. The promoter reps would ask me where I wanted to go, and wherever we went there was already a table reserved for Air Supply."

Playing to sold-out stadiums in far-off places no longer surprised Graham or Russell. Their style of music transcended borders. Air Supply was one of the first western bands to tour Taiwan, and their popularity in the country never faded. "I remember getting an invitation from Taiwan [in the early 80s]," said Graham. "The country at that time was very strategic to China. It was part of China, but it really wasn't. We went there and it was bedlam. They had never seen a western band before and there were thousands of people all over the place, including the hotel. We went back every year and created a wonderful relationship with that country."

When Air Supply returned to Taiwan in 1988 they performed at some of the largest venues available. Ken Barr wrote, "The first gig in Taiwan was to take place in an outdoor soccer stadium where they were building us a stage. When we went to the gig to check it out I was surprised at how big the place was. It would hold about thirty thousand people. I thought they have got to be kidding; we'll never fill this place. The doors opened and much to my surprise the place was completely filled in a short time. When the lights went down and the band took the stage, the roar of the crowd was deafening. The place was absolute mayhem. The screaming died down and was replaced by thirty thousand voices all singing along. They knew every word, and most of these people did not otherwise speak English."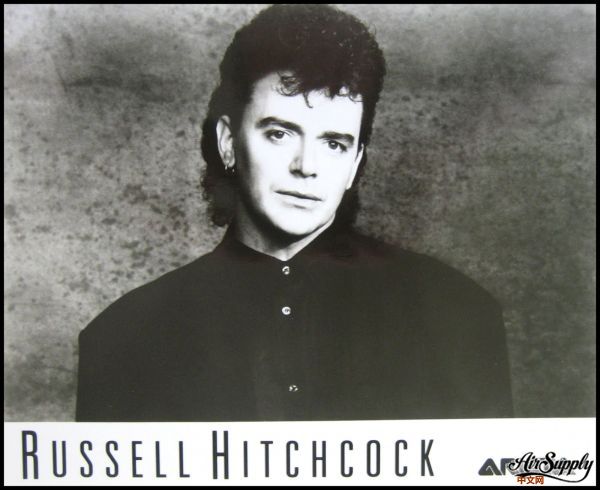 Arista Promotional Press Release

While on tour in late 1988, Air Supply began work on a live concert video. They filmed at the historic Ventura Theatre in California. The band had not released a live video since the 1982 concert in Hawaii, and felt a new video would help promote their next record. After their hiatus from recording, Air Supply regained much of the passion they had lost in 1986, and were eager to get back to their early 80s status. But they were now without a label for the first time in ten years.

As the year drew to a close, it was clear that Russell's solo career did not have the same hit-making strength as similar artists like Peter Cetera or Sting (who recorded ten solo albums over the next 25 years). It is impossible to know if Russell would have pursued a lengthy solo career had his album been a hit. "We had the best songwriters and the best musicians, but people didn't like it for some reason," said Russell. "It still blows my mind. It wasn't accepted as well as Air Supply's music has been because it was during a period when we were very high profile. Also, Arista dropped the ball on promotion." The album's lack of sales may be attributed to Russell's relative anonymity. Most pop fans knew Air Supply, but they didn't know Russell Hitchcock. Russell gives an example of a conversation he frequently had with strangers:

"What do you do?....Oh, I'm a singer....Really, what do you sing?....I sing with a group called Air Supply....Really, what are some of their songs?....'Even The Nights Are Better,' 'Lost In Love'....Oh, I know those songs - You're that guy!"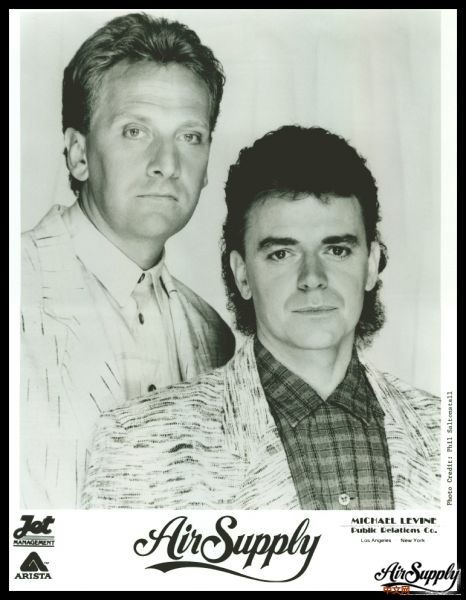 It was once suggested that Russell might increase his name recognition by changing the band's name to Russell Hitchcock and Air Supply, to which Russell replied, "Oh, no, no, no! We started as a duo. It wouldn't have been right to take all the credit and leave [Graham] out. He is as much a part of this group as I am."

Despite being called the most successful band of the 80s by Billboard, Air Supply was decidedly undistinctive. They were never rowdy or particularly amusing, and lead scandal-free lives. Russell was convinced that this normalcy worked against them. "We don't tear up hotel rooms," he said. "We don't use drugs. We don't get into fights. We are not getting thrown out of bars at four in the morning. We just go back to our hotel after the show. We tend to live very quiet lives once the show is over."

Air Supply did not take this anonymity or facelessness lying down. They did everything possible to remedy the problem with endless press interviews, TV appearances and long tours around the world. Regardless, Russell was still a relative unknown outside of Air Supply. "But what can I do?" he asked. "How can we make our names and faces stick with the public? I'd give a fortune for a proper solution to that one."